RW & DD Gabriel Electrical Contractors was formed by Robert and Dorothy Gabriel in 1959 to service Mount Gambier and surrounding locales with prompt and efficient service to electrical systems in the domestic and commercial markets.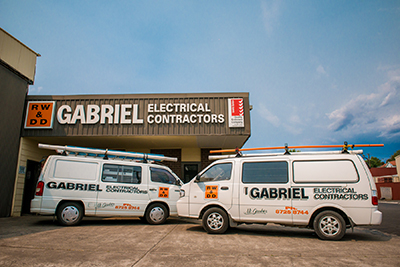 While maintaining a focus on these sectors, the company made a successful transition to the industrial sector throughout the 1980's and is now identified as a market leader in providing electrical and control solutions to timber milling and related material handling industries throughout Australia.
Mission Statement
Our mission is to provide:
• Value through service to all clients
• A service that is the best based on current and predicted future needs
• Service in a cost effective manner
Values
Professional responsibility:
Our customers must see us as being aware of, and reacting quickly to, all new products, customer requirements and market trends, consistent with the performance standards and procedures of Gabriel Electrical Contractors
Teamwork and Customer Focus:
Working as a team, Gabriel Electrical Contractors aims to provide quality client service in the execution of all tasks in a cost effective manner. We value as a company, honesty in business dealings and team support amongst employees.
Family orientation:
Gabriel Electrical Contractors is a family business. We value family commitments, including tradition, looking to the future and the well being of all family members. These same commitments extend to our clients: a commitment to provide value through service to all clients, to provide a service that is the best based on current and predicted future needs, and to strive to provide such a service in a cost effective manner.
Accreditations
Licensing:
Gabriel Electrical Contractors currently hold Electrical Contracting Licences through all Australian states.
Electrical Contractor (WA) EC008325
Electrical Contractor (NT) C3031
Electrical Contractor (ACT) 201066
Electrical Contractor (SA) PGE135440
Electrical Contractor (VIC) 7195
Electrical Contractor (TAS) 944710
Electrical Contractor (QLD) 52413
Electrical Contractor (NSW) 70612C
QMS:
Gabriel Electrical Contractors Quality Management system holds accreditation through SAI - Global, Licence No. SAI 12167, and the company is committed to the "continuous improvement" cycle. The QMS ensures that all relevant OH&S criteria are met.
Mobility
Whilst Gabriel Electrical Contractors are based in Mount Gambier; the company is well equipped to carry out projects throughout Australia. Mobile workshops, offices and stores are delivered to the project site and established in a short time, ensuring all necessary equipment, tools and stock are readily available to our staff.